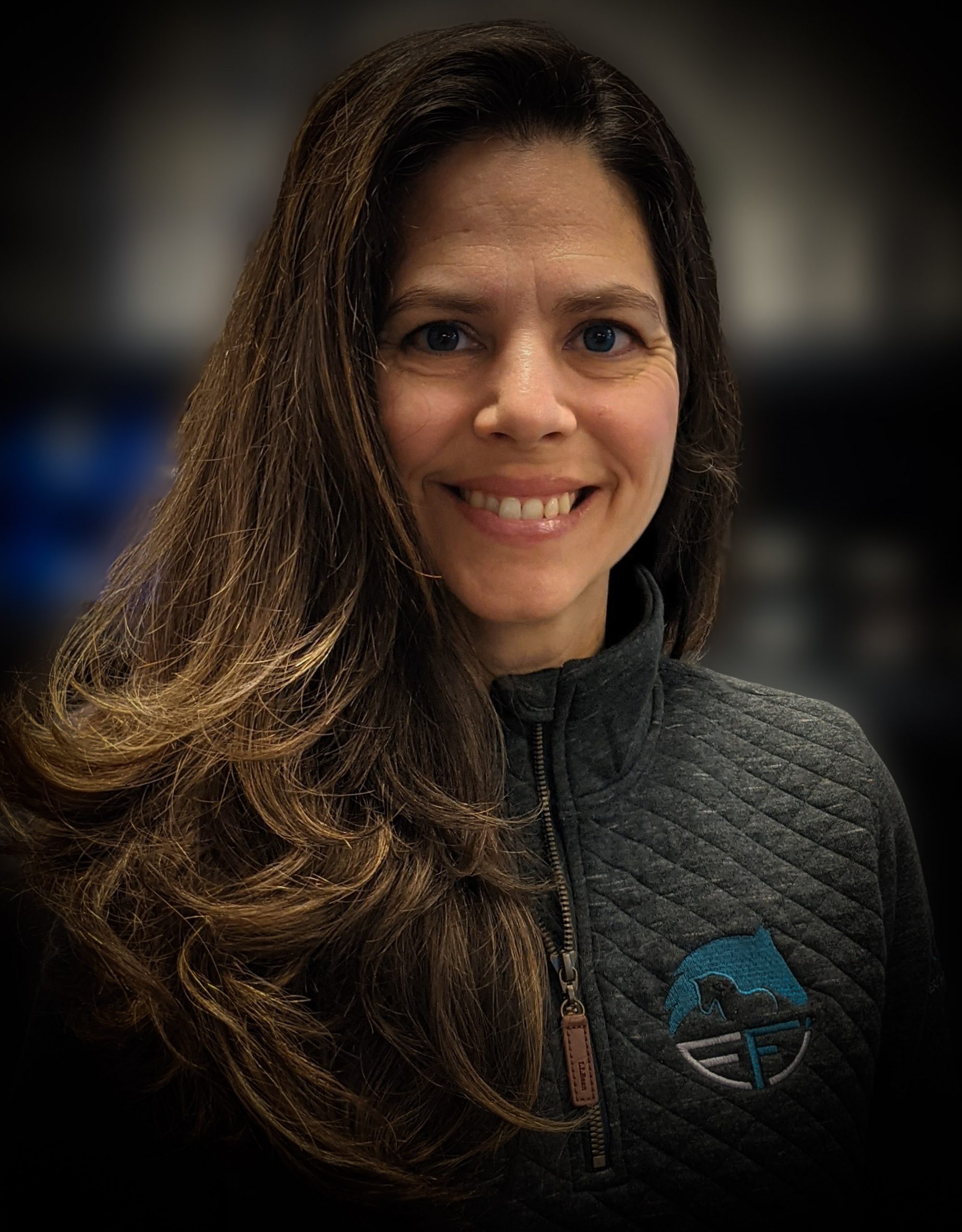 Sabrina Jacobs, DVM  –  Founder
Dr. Sabrina Jacobs is the owner and founder of the Performance Equine Vets and Performance Vet Supply.  A Texas native, she graduated from Texas A&M College of Veterinary Medicine in 2004. Dr. Jacobs has a particular interest in advanced reproductive techniques. She has performed thousands of oocyte recoveries and embryo transfers. Dr. Jacobs is proficient at performing the most complicated embryological procedures, such as Intracytoplasmic Sperm Injection (ICSI), Embryo Biopsy for Preimplantation Genetic Diagnosis (PGD) and Embryo Vitrification (Embryo Freezing). Tasked with leading the team, she is passionate about optimizing every detail of the process to ensure the best possible results. Dr. Jacobs is held in high regard by colleagues and clients alike for her advanced skills, leadership and deeply caring attitude. Dr. Jacobs is a professional member of the American Associateion of Equine Practioners (AAEP), the American Veterinary Medical Association (AVMA), and the Society for Theriogenology (SFT). She is licensed to practice Veterinary Medicine in the states of South Carolina, Georgia, Florida, Mississippi, Texas, North Carolina and Tennessee. 
In her free time, Sabrina enjoys tinkering in her ever growing garden and spending time with her husband Clay and daughter Ansley. 
Dr. Douglass Berry II, MS, Diplomate ACVS  –  Surgeon
Dr. Berry is board certified surgeon and has extensive experience as equine surgeon and educator with interest in sports medicine, young horse training, orthopedics and rehabilitation.
An Alabama native, Breanne builds on the spirit of excellence here at PEVS.
Dr. Cromer graduated from Cornell University with her Doctor of Veterinary Medicine. Formerly with Rood and Riddle Equine Hospital in Lexington, Kentucky, she headed south to Aiken and became an integral part of our team at Performance Equine Vets. Dr. Cromer is passionate about advanced reproduction with a focus on infertility in the mare, transvaginal oocyte aspiration and neonatal medicine. She also has a strong background in Equine Medicine, and enjoys the challenges and difficulties of the more advanced cases. She is uniquely skilled in her technical aspects of Veterinary Medicine and is proud of the work she does at Performance Equine Vets, where we feel all patients should be treated like family. Dr. Cromer truly embodies this philosophy and treats her patients with empathy, sensitivity, and warmth which has been noted by so many of our clients. Among her other talents, Dr. Cromer has authored numerous research articles relating to equine reproduction and infertility in the mare. 
When she is not taking care of her patients, Casey enjoys riding her two Thoroughbred geldings, Manny and Shark and hanging out with her pack of dogs and cats and of course spending quality time with Bryce! 
Jose Zambrano –  Veterinary Assistant
Jose's and Dr. Jacobs have been the dynamic duo for many years.  A man of much talent, Jose endures the task of working with the boss day in and day out.
Taryn Sheehan –  Veterinary Assistant
Taryn was born and raised in the Commonwealth of Massachusetts. Her passion for horses started quite early in life at the young age of seven when she started taking lessons and riding in an elite Hunter-Jumper barn in Boston. Prior to moving to Aiken, Taryn solely managed a bustling boarding operation with over forty horses. During those six years, she developed a comprehensive lesson program for young riders and taught upwards of fifty lessons per week. Taryn truly enjoyed traveling to shows up and down the east coast with her students while helping them to develop their riding skills. Although it was hard for her to leave, she absolutely loves it here in South Carolina and couldn't imagine herself doing anything else. Taryn is trained in Advanced Equine Medical Massage and is an invaluable resource for our patients. Among her other talents, Taryn is one of the most dedicated individuals we have had the joy of working with. 
While her primary focus is always with the horses, she loves spending time at the lake, watching hockey, playing soccer, and experimenting in the kitchen. If she is not on a horse, you might find her with her boyfriend Pat, five dogs (Jack, Teddy, Tyson, Nova, and Eli), and two horses Yankee and Twist. 
Cheyanne Gray –  Veterinary Assistant
Cheyanne is from the South Carolina low-country where oysters, fish and low country boils are a rite of passage.  Cheyanne joined the PEVS team in 2019 and is an avid rider.
Kayleigh Mosley –  Veterinary Assistant
Kayleigh moved to Aiken to pursue her Veterinary Technology career after working as an Equine Veterinary Assistant at Brandon Equine Medical Center in Bloomingdale, Florida. Originally from the historic town of Arcadia, Kayleigh has over four years of experience in the equine Veterinary field. Kayleigh's background in horses began in Reining and Reined Cow Horse, where she actively showed in the Florida circuit for several years. Kayleigh's special interest is in Equine Anesthesia, where she is currently pursuing advanced training. 
While Kayleigh is a Floridian at heart, she and her dogs "Jackie and Rousey" love spending their time enjoying the rivers, hiking trails and parks that are so readily available here in Aiken. Family is very important to Kayleigh, she spends as much time as possible with her two sisters and brother. Kayleigh is an avid scuba diver and a beautiful photographer. She stays busy outside of work riding horses and through her involvement in church.
Marcella Dragolich –  Equine Embryologist
Marcella joined the team at Performance Equine Vets, after her education at The Ohio State University. Her particular interest is in Equine Embryology, she is trained in advanced micro-manipulation techniques for Intracytoplasmic Sperm Injection (ICSI), Embryo Biopsy, and Embryo Vitrification. When not in the lab, Marcella derives some of her greatest joy from delivering new foals! She possess compassion, dedication, and a strong work ethic. Marcella has been an avid horse lover from a very young age, and plays a vital role in our operation by coordinating all reproductive procedures, including new patient check in, Oocyte Harvest procedures, ICSI Mare management as well as Embryo Flushes. She also jointly manages our extensive recipient herd with Emily Jones.
Marcella enjoys gardening, camping, and running "really long" marathons with her dog Lucy.
Emily Jones, M.S. Equine Reproduction –  Stallion Manager, Director of Client Services (Reproduction)
Emily is Clemson graduate with her bachelors degree in Equine Business. During her stay at Clemson, Emily interned with us for two summers. After graduating from Clemson, Emily accepted a position at Kansas State University where she obtained her Master's in Equine Reproductive Physiology. After leaving Kansas, she headed out west to manage a privately owned breeding and foaling operation. Emily was excited to join us here at Performance Equine Vets. She brings to us extensive training in stallion management and semen preparation. Her combination of medical knowledge and professional experience has proven especially useful to our clients and patients. A warm and compassionate multi-tasker, she works to ensure each and every client and patient receive unparalleled communication and care. Emily tackles each of her numerous duties with passion, relishing the opportunity to educate clients throughout the process.  On top of everything else, Emily also assists in management of the recipient mare herd with Marcella.
Emily enjoys spending time relaxing at the beach and taking her dog for long hikes. She loves to cook and consistently bakes yummy treats! Although Emily has been a western girl most of her life, she has recently begun training in dressage.
Jess Fisher –  Horse Defense
Jess Fisher hails from the land of Yankees, but we love her anyway.  A long term resident here in Aiken, Jess brings years of experience and tons of knowledge to the table.
Katherine Miller –  Inventory Management
Graduating from Clemson University in 2018, Katherine's focus has been on Clemson her entire life.  We were lucky that she left Clemson and came to work in Aiken.  Armed with a degree in Equine Business the stars were aligned and well… as they say… the rest is history.
Originally from Connecticut, Peggy cut her teeth on hunters and jumpers before making the move into race horses in Rhode Island. Then eventing and eventually onto Fox hunting! And now, Peggy's driving horses in Aiken and herding cats at Performance Equine Vets.
April Leeman –  Client Services
Hailing from the great state of Maine, April brings more than horse experience to the PEVS team.  April brings dogs AND experience 🙂
Dominique Matos –  Client Services
The youngest member of the PEVS Team, Dominique is an avid photographer and dressage enthusiast.
Clay Jacobs  – Operations & Finance
Clay is the man behind the scenes, providing direction, operational guidance and financial engineering for the company.  Sabrina and Clay were married in 2002 and immediately began a journey to identify the best location to start an equine practice.  Landing in Aiken the fall of 2004, Clay began the acquisition of properties and worked to design what we now know as Performance Equine Veterinary Services International, complete with an Online/800 Veterinary Supply that services thousands of clients around the world.